May 2011 Pineapple Blossom Quilt Top
I finished my Pineapple Block Lotto quilt top today.  Yippee!!!  I am in love with this quilt!  These blocks were won from the Block Lotto in May, 2011.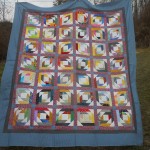 You can read the full post on my blog at:  http://new2quilting.blogspot.com/2012/02/may-2011-block-lotto-quilt-top.html  I'm not sure if this photo will show up in the gallery yet.  I will e-mail a picture of it to Sophie.  I am sooooo proud of it!