A reminder about Categories and Tags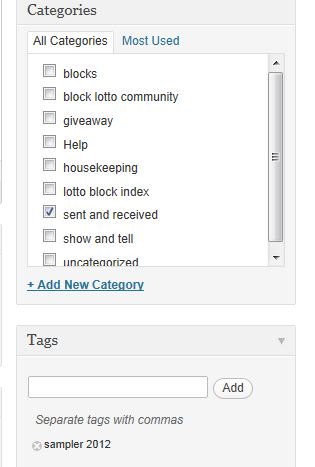 When you are posting your "I've sent your blocks" or "I've received your blocks" messages, be sure to choose the Category "sent and received."  Since these posts generally do not have photos attached, you need to un-check the category "blocks"–which is used for post with block photos and adds a photo to the home page "recent work" section.
Blocks is the default category since that's what most of our posts are, but if you use it for a post without a photo of blocks, then an empty box is displayed in the Recent Work section on the home page.
The Tag to use for all posts about the February block is "sampler 2012."
When you're read to publish, the Categories and Tags sections of the page should look like the example.