Sophie is embarrassed to share …
I just left the ginormous Santa Fe post office where I mailed my April blocks to the winners.
With the help of a big bag of Rx drugs from the allergist, I am starting to feel human again and hope to catch up on blocks posted, requests to join and some other Block Lotto housekeeping this weekend.
Who knows I might even make some school house blocks and some samples for July.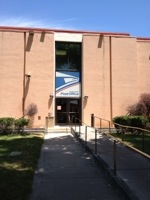 I describe lots of buildings here as "wrapped in adobe" … even the post office has minimal signage and the adobe treatment  🙂