a string of birds, not for swapping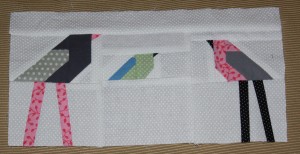 I have been going crazy making birds but mostly for myself.  I decided they were just the thing to populate random places in my own bird trap block inspired quilt top (for about  four months now I have been obsessing on the African-American quilts in the Belger Arts Center collection.  These three birds are quite a bit smaller than this months Block Lotto bird, the smallest began with  2″ squares to make the 1/2-square triangle body.  My plan is to embroider legs as even the <1/2″ legs of the bird on the right would be to thick.  I was also challenging myself to not repeat a single piece (except in the legs) across all three birds, although I am not sure I was successful.
& in other news, this afternoon I mailed March blocks to Erin, Ginny & Jeanne.  Congrats on your wins!