Catching up as fast as I can …
If you made blocks in April, you should have received THREE email messages from me today with the mailing info. (The second has claimed to have the CORRECTED mailing info sheet attached, but didn't.  The third one IS corrected).   If you should have received the mail and didn't or find another mistake, please let me know ASAP.
I have updated the at-a-glance page with the May info.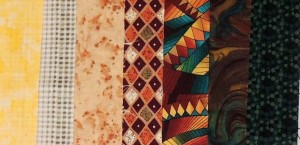 And, once, again, here are the ten blocks I've made for this month, including the 9 unique blocks made from 7 geese fabrics.
The 10th block (on the left was made using the one left-over flying geese unit from that exercise , the single unit I made as an example for my Flying Geese Tip Sheet and one more, made from something that would give me a light-medium-dark combination.
Looking again at my finished (yay!) quilt, I thought how it is a great example of how in scrap quilts, the sum is always great than it's parts.  A couple people have commented on my blog or on flickr that they like "the colors," when, in fact there was no scheme and just about every color and every style of fabric you can imagine is included in the mix. The light-medium-dark of the geese brings some order to all that.
As I often do when I make blocks for the lotto, I veered toward neutrals because I know they'll play nicely in combination with anything and everything … and then I worried that these geese, flying somewhat on the dull side of the color wheel aren't very inspiring.  Trust me, they may not be the stars of the group this month, but they will sparkle in the quilts made by our May Winners.