Nifty Thrifties – A UFO Finish !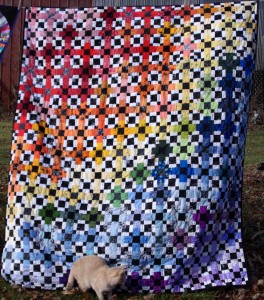 In 2009, shortly after the Thrifty Block was released, I swapped blocks with members of a Yahoo Group no longer in existence.  I've had them laying around in a box ever since.  My backing fabric was not big enough so I added a few Violet blocks (another block lotto block) I swapped with members of another Yahoo Group.
Quilt measures 72×90.   I love it and I'm glad I finished another UFO but I still have miles to go!
Cathy L in IA
Sane, Crazy, Crumby Quilting
http://saneandcrazy.blogspot.com/