May 2014 Recap
In May, 41 quilters made 205 lotto blocks.  They were won by Jude, Cathy, Debbie and Julianne.  This post is our archive of activity that month.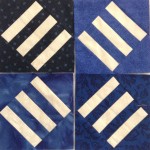 The block was a 7-inch square (finished size) block called Diagonal Bars, made in true blues with cream/light tan. Here are four, made by Kim.
Complete guidelines for the block and link to the directions are in this post:
The tag for ALL blog posts about this block: bars
Our Linky topic was Let's Blog About Inspiration.
Here is the list of the 203 blocks made in May 2014 and who made them.
Blocks entered into Drawing:
Andi – 2
Andrew – 1
Angie – 1
Barbara – 1
Belinda – 6
Caroline – 9
Cathy – 6
Charlene – 6
Christa – 1
Debbie – 4
Dena – 2
Erin – 4
Helen – 1
Kathy – 1
Kim – 4
Jude – 3
Julianne – 7
Karen A – 4
Kathie – 4
Kathleen – 3
Laura R – 9
Laura W – 6
Laurie – 9 ***NEW***
Laurina – 5
Maree – 9
Mariella – 9
Mary Jane – 6
Margaret – 4
Nann – 4
Nicole – 4
Rho – 9
Sandy – 3
Blocks donated (no chances in Drawing):
Celine – 2
Elizabeth – 6
Julie – 6
Karen B – 6
Karen N – 9
Kate – 6
Marie – 3
Peggy – 6
Sharon – 7
Sophie – 7