2 Easy X's from Newbie Robin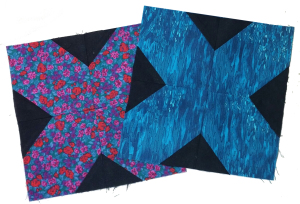 Robin (aka A.Lizard) has joined the block lotto … but is a little intimidated by the mechanism of creating a post.
I'm posting her blocks for her this month and asking everyone to welcome her  … and convince her it is possible to get past the fear of the unknown and figure out the process for adding a post.
Her blocks bring us to a total of 209 so far.
Reminder: TOMORROW is the last day of the month and the deadline for entering the drawing this month.  You must post the photo of your blocks before NOON (on the US East Coast) tomorrow.