Updates, Reminders and a Little Eye Candy
I took my woven bars blocks for Debbie and Nancy to the post office yesterday. Work, weather and life conspired to make me later than I'd like this month … which always makes me feel like I'm telling you all, "do what I say, not what I do."  I promise to be a better example next month.
If you haven't yet mailed your October blocks, please get them in the mail soon (unless, of course, you've been hit by dangerous weather, then please stay safe.)
My birthday came and went, though, at least in my head, I'm still celebrating a little. I've loved reading everyone's comments on the giveaway post. If you haven't already done so, you have one more week to leave a comment and enter the giveaway for that great basket of goodies.
Birthdays, Celebrations and a Giveaway
I couldn't help but compare and contrast the facts that in New Zealand, Laurina and her daughter will be going to the zoo for her daughter's birthday to walk the Cheetahs (which sounds like a fabulous way to celebrate a birthday)  … and near me, at the Albuquerque Zoo, in a sad, unbelieveable event,  someone recently killed one of their beloved, popular Tasmanian Devils, Jasper,  by throwing a chunk of concrete at him.
And, while I have your attention, here's the promised eye candy.  I've been playing with last year's block pattern for the log cabin variation, Steps, for the Modern Quilt Guild's Michael Miller Spring Couture Fabric Challenge.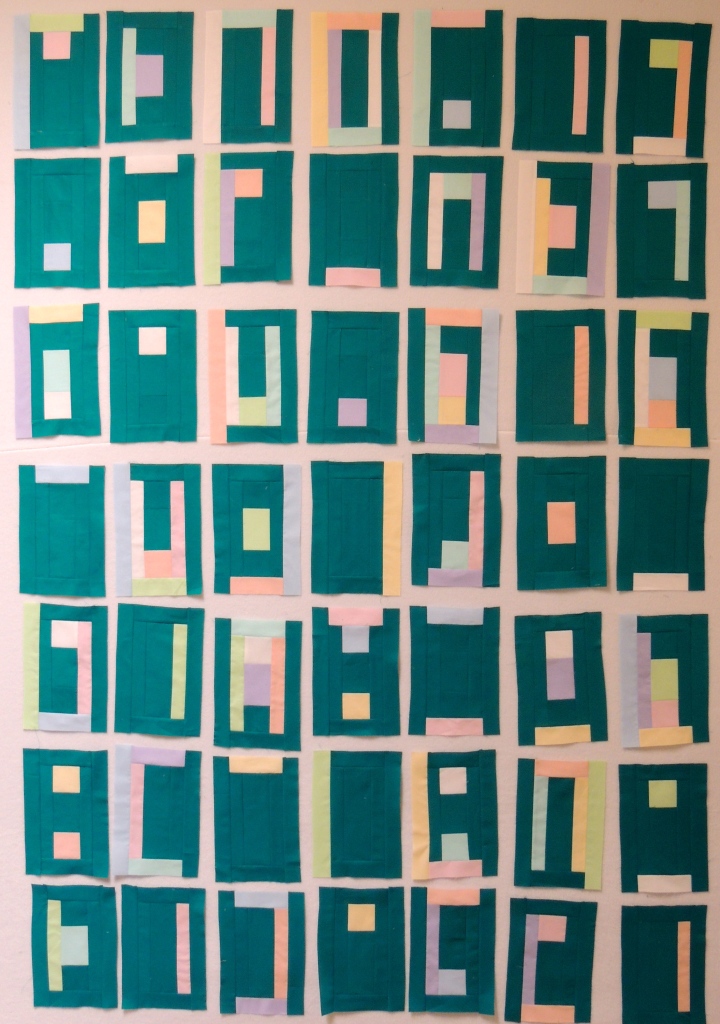 I made blocks until I ran out of the challenge fabrics (8 Fat Eighths) and ended up with 49.   It has been interesting to see the shapes that emerge with the random fabric placement.
I blogged about my process for making the blocks on my blog here:
I will probably spend a couple days arranging and rearranging before putting them together (and getting them quilted … I'm running out of time)