It's Like a Big Hug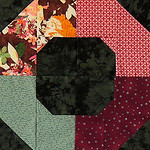 The block we are making in December is a big "hug" – a 14-inch (finished size) square "O" that is made from four different 7-inch quarter units.
To make it quicker to make and easier/less expensive to mail, we'll be counting the quarter-O units as one block/one chance in the drawing.  This photo shows what the block will look like after the winner puts 4 quarters together.
Because we are counting it this way, for this month only, you may make a maximum of 12 blocks.
Download the block pattern and color guidelines for this month here:
Tags and Categories
Add the tag big O to all your blog posts about this block.
The category should be blocks when you are posting photos of your blocks to enter them in the drawing; use the category sent and received when you are posting about mailing or receiving blocks; and the category show and tell to share projects you make from this block (whether they are lotto blocks or blocks you make for yourself.
Color Guidelines
The background fabric is VERY DARK – any very dark color or black (solids or tone-on-tone prints).
The O fabric is quilter's choice.  It can be any quilter's cotton of your choice.
You make multiple blocks, you can use the same VERY DARK BACKGROUND fabric in multiple blocks but each O block should be made from a unique fabric.
Virtual Quilt
Here's the Virtual quilt, made from photos from the sneak seekers and some of the blocks already posted as I play catch up. This contains blocks made by Debbie, Helen, Jen, Kathy, Nan, Peggy, Rho, Wilma and me.
Don't forget that even if you emailed me with photos of your blocks during the sneak peek, you must share them in a blog post for them to be counted for the drawing.
Mod-Mod Quilt-Along
The QAL update will be published separately. If you have been playing along, you'll already know where the Big O blocks go in your quilts.
For the sake of consistency, here's the number of the month's assembled Big O blocks (made from 4 quarter units) you'll need for each of the 6 quilt sizes:
| | | | | | | |
| --- | --- | --- | --- | --- | --- | --- |
| | Small | Crib | Throw | Twin | F/Q | King |
| Big O Blocks | 1 | 1 | 2 | 2 | 3 | 5 |