July 2015 Recap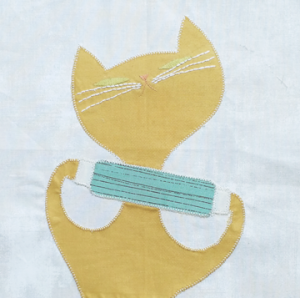 In July, 27 quilters made and entered 68 quilter's choice blocks featuring household pets.
Robin made this one.
Complete guidelines for this month are here:
It's Raining Cats and Dogs in July
The blocks were won by Maree and Peggy M.  Congratulations again … we can't wait to see what you make from them.
Tag for ALL blog posts about this month's block: Pet

As an archive of the 68 blocks made and who made them, here's the list.
 Total Blocks: 68
Blocks entered into Drawing:
Cathy L – 1
Christa – 1
Deana – 1
Deborah – 6
Gail – 4
Helen – 1
Karen B – 1
Karen N – 1
Kathie – 1
Kathy – 1
Laura R – 5
Linda N – 2
Maree – 3   *** WINNER ***
Margaret Ro – 2
Mariella – 8
Peggy – 4   *** WINNER ***
Rachel – 2
Su – 3
Blocks donated (no chances in Drawing):
Andra – 3
Barbara P – 2
Charlene – 3
Ginny – 1
Julie P – 2
Laurie – 3
Laurina – 1
Robin – 5
Sophie – 1