Is Mercury still Retrograde? (sneak peek)
I have mailed the October sneak peek to those that have made and posted Tulip blocks this month.   I have had some struggles with photographs, printers, creating templates that will be correctly sized when printed, etc., etc. … so I am blaming all those technological challenges on Mercury.
Please let me know if you didn't receive the sneak peek email, but should have … or vice versa. I feel like Mercury is playing with me today … but it could just be allergies and sinus headaches messing with my head 😉
This is also a good time to click over to the at-a-glance page to confirm that I have correctly accounted for you and your tulip blocks and whether or not you want to be included in the drawing.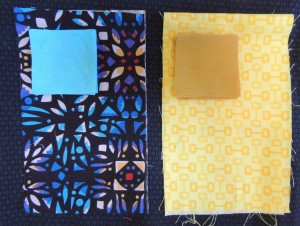 For those who haven't (yet) made Tulip blocks, but are curious about what October may bring … we will be using a similar color-way as this month–two fabrics which are lighter/darker shades of the same color–combined with black (solid or black-on-black print).
Here are a some of the fabric pairs I used in my blocks. Your fabrics can be solids, tone-on-tone (TOT) prints or multicolor prints that are predominately one color (like my blue stained glass print).