Is it a sign?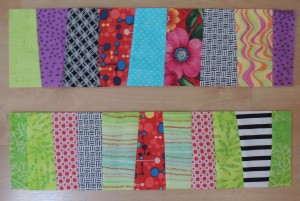 All but the black and white strips in my two blocks came from three recent projects–all still unfinished–for which the fabrics were still out on my worktable in my tiny sewing space.
I am donating my chances for these blocks.
This morning, as I was taking photos, it occurred to me that all that fabric laying around is probably a sign that my sewing space could benefit from some time organizing and cleaning.  It has warmed up here which makes cleaning up that very cold room a little more appealing.
The projects from which these fabrics came are a scrappy community service quilt (headed to the dorms at the local School for the Deaf) and two workshops I was lucky to be able to attend in November.
This is an in-progress photo of my blocs for Karla Alexander's Electric Fence pattern–I have been thinking of my quilt as Neon Fence 😉
All fabrics except the black and white prints in the top Wonky Strips block came from this one.
This is my Scrappy Love quilt made for Community Service in October.
If you saw the post about how fabrics were selected on my blog, you can imagine that we ended up with lots of left-over bits of the colored strips.  Most of my left overs ended up in the pieced back … but a few found their way into my second Wonky Strips block.
Also in that second strip are some of the green fabrics I took to a workshop with Patty Hawkins.
Here's my work-in-progress from that weekend. I blogged about how the design for this quilt was created here.