My OTHER 2016 Sampler Idea – Want to Quilt-Along?
Today on Sophie Junction, I blogged about the two sampler ideas I had for this year's blocks.  As I was trying to describe them when I can't really describe them, I realized that the biggest difference is that one is much more of a mystery.
In my coming attractions post a couple weeks ago, I shared the sampler layout idea below, with some color variations to show how you might choose colors to make it your own–this is the less mysterious sampler design.
| | | |
| --- | --- | --- |
| | | |
For this one, you can choose a color way for the setting fabrics and for your blocks and have a reasonable expectation that the colors will all work and how it will look when you're done. You know up front that you only need to make 4 of each of the lotto blocks, sew them together in a 4-patch and fill each of the open squares.  It will make a quilt that is 60 by 82-inches.
I am planning to make a scrappy version of the color way on the right–I am thinking of my quilt as RSC Meets the Block Lotto and will be making the blocks and cutting the small rectangles for the setting from fabrics in my scrap bins.
More generally, I am going to call this one Graduated Sampler. Yes, I did check the dictionary to make sure that's the right word; from dictionary.com, definition #2 for the adjective graduated:
2. marked with divisions or units of measurement.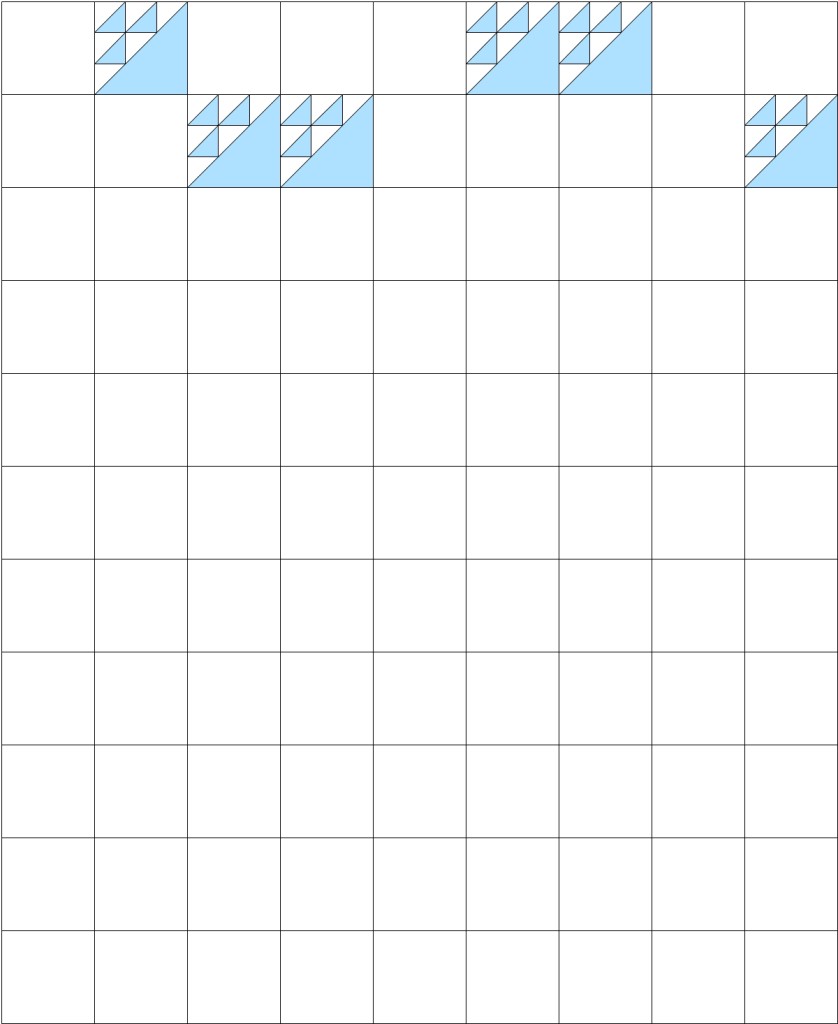 The other sampler quilt will be MUCH more of a mystery.  It has no sashing or borders and is made from 99 lotto blocks in a 9 by 11 grid to create a 54 by 66 inch quilt. You might decide to add borders (or extend the quilt with more blocks) if you want a larger quilt (or like borders).
So far, this is all I can show you.
The number of each of the lotto blocks you'll need to make this quilt varies from 2 to 15.
The quilt is a little bit pictorial (landscape), a little bit folky and has a lot of leeway in the choice of colors, so if you decide to suspend disbelief and play along, I'll give you lots of clues about how to choose colors that will work in the quilt and still be "you."  For example, you will need 6 Birds in the Air blocks in colors that suggest a summer sky. I plan to use a pale blue batik for the SKY fabric and medium blues for the BIRD fabric in my six blocks.
I had lost my pencil sketch of this idea, couldn't find it anywhere, so recreated it in EQ7 from scratch this morning.  As I was working on it, the name Old MacDonald's Mystery Sampler popped into my head. That may give you a bit of a clue as to theme …
When I tried to make two versions of the Mod Mod Sampler Quilt in 2014, I only finished one, but I am telling myself these are smaller and a bit more doable so I'm going to go for it … want to join me?
If there is interest (and commitment), let me know what you're thinking and I will work with you to put together fabric requirements for your sampler.  Both quilt designs work scrappy or not.  My EQ drawings were simply created with solid colors … which makes me think the quilts could be pretty great made from all solids, in a limited number of colors, if that were your choice.