Chickens Gone Wild in November
I will say now, this is NOT the hen block I designed for us, but given my lack of internet for two more weeks, my utter lack of energy and my generally frustrating life right now, I am linking to a pattern that is CLOSE enough to get us through.
You may make a maximum of 9 blocks  for chances in the drawing at the end of the month. The target set size for the winners will be 48 blocks.
Block Pattern
This paper-pieced block pattern by Jennifer Ofenstein at Sewhooked.com is for a FIVE inch (finished size) block.  To make a 6 inch block, you will need to print/copy this at 120% 
You may make your choice of left-facing or right-facing roosters or a combination of both.
Fabric Guidelines
Because the Rainbow Scraps Challenge has no colors specified for November, let's go WILD:
Background: pastel or low-volume prints
Rooster: LOUD, BRIGHT colors of your choice
If you make multiple blocks, you may use the same fabrics multiple times, but each block should be unique – no twins!
Tags and Categories
Add the tag rooster to all your blog posts about this block.
The category should be blocks when you are posting photos of your blocks to enter them in the drawing; use the category sent and received when you are posting about mailing or receiving blocks; and the category show and tell to share projects you make from this block (whether they are lotto blocks or blocks you make for yourself.)
Notes on the QAL
If you are making Old MacDonald's Mystery Sampler quilt, you will need 7 blocks–as you can see my original plan was for 3 adults and 4 chicks.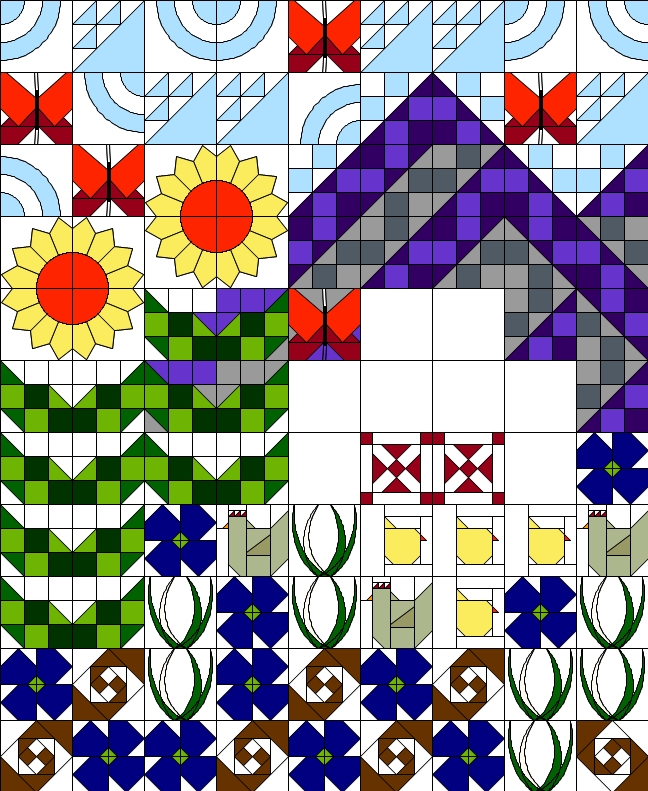 There's not a lot of mystery left, is there?
For the rainbow sampler, you'll make the usual four 6-inch blocks
On a Personal Note
I don't know when/if I'll get my life back on track, but until then, I hope this is enough information to get you through.