What Do You Love? January's Heart Block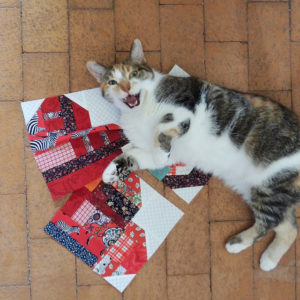 I was thinking about New Year's Resolutions and thought how it seemed we mostly focus on negative things that we want to change to make better, rather than the positive things that, if we found a way to have more of in our lives, would make us even happier.  I was led me to the idea of making heart blocks this month after asking myself the question,
What do you love?
followed by,
How can you have more of that in your life?
Those are my three blocks in the photo, photo-bombing by my cat Grace Hopper, who is also loudly protesting my efforts to get her to get out of my way …
Block Pattern
You can download the block pattern here:
The pattern is offered with a pay what you want option. If you enjoy the Block Lotto and want to help support it, consider making a small payment for your pattern.  The pattern includes directions for a small heart quilt and ideas for alternate fabrications (for those who don't like made fabric)
Fabric Guidelines
The block is made from two fabrics:
White – Any solid white or white-on-white (WOW) print
Made Fabric – Use any technique and quilters choice of fabrics to make a rectangle that is 5 1⁄2 by 12-inches. Use at least 4 different fabrics. Aft least half of the fabrics in your made fabric slab should be predominately red.
Here are the three fabrics I made for my blocks and the finished blocks (without a kitty photo-bomber.)
Techniques I used to make the three fabrics–from left to right:
Cross-cut strings from last month, made as a long rectangle, 5 1/2 by 12 inches.
Liberated Log Cabin Roses from August 2011. I started two blocks and then puzzled them together.
Randomly piecing 5 1/2-inch wide sections, then sewing them together until I had a rectangle that was 12 inches tall.
If you would like to share how you make the fabrics in your posts, I think that could be interesting to us all.
You may make a maximum of 9 blocks  for chances in the drawing at the end of the month. The target set size for the winners will be 48 blocks.
If you make multiple blocks for the Block Lotto, you can use the same fabrics in multiple blocks as long as each block is unique.
Tags and Categories
Add the tag heart to all your blog posts about this block.
The category should be blocks when you are posting photos of your blocks to enter them in the drawing; use the category sent and received when you are posting about mailing or receiving blocks; and the category show and tell to share projects you make from this block (whether they are lotto blocks or blocks you make for yourself.)
The Virtual  Quilt
This month's virtual quilt is made from blocks made by sneak peekers, Barb P, Karen N, Laurie, Maree, Peggy and Susan.
 Setting Ideas
If used as hearts, these blocks will look great in an on-point orientation, like these, made by Barb P and Kathy: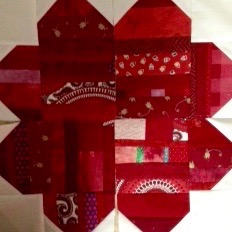 During the sneak peek, Maree suggested a flower formation … here are Jude's blocks arranged in that fashion.
In the way, that one idea sparks another, Jude suggested that three blocks could make a shamrock–another idea that I also like and so I mocked up a stem and laid out my blocks to see how it might look.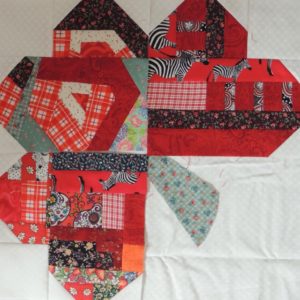 How many other ways will you find to use this block?