It is Finished! ~ ~ Rho's Heart in a Snowball Quilt ~ rho
I am so happy that this is complete….. now I can push on to
the next UFO! Though the colors look royal (sashing and borders),
it is really, purple. I used a double seminole border. After adding
everyone's blocks, and making the sashing 1 -1/2″, the width was
still not as wide as desired, so I continued until the width was 80″
and the length was 95″. I am happy with the results. I don't know,
I just like to make larger quilts, most of the time.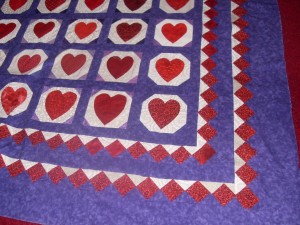 Many, many thanks to all of you who contributed to the blocks
in my quilt for Feb's block lotto. They are really, really appreciated! And
thanks to you Sophie for hosting!
Happy Quilting Everybody!