3 hours and 15 minutes
That's how long it took to make this quilt using 4 fabrics and this month's block pattern to make 42 blocks. Top size is 42″ X 54″ and the time included cutting and sewing. Half of the blocks have yellow polka dots, half have blue with stars and swirls for the 4.5″ x 6.5″. I used the same two fabrics and placement for the smaller patches in all the blocks. I did not use strip piecing, but it easily could have been used for the smaller 2 patches. I think this pattern would make a great baby gift done in the right fabrics….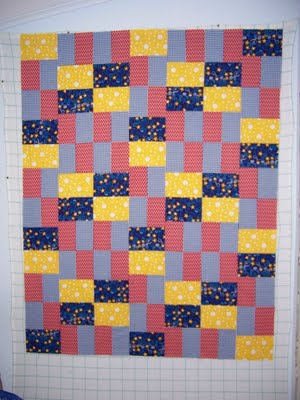 Now looking at the picture again I think maybe I should have oriented a few of the blocks differently but I'm not sure and I'm not going to change it, just keep it in mind for the next time.
Maybe I should have pondered the block arrangement longer.