Sophie's Big Gulp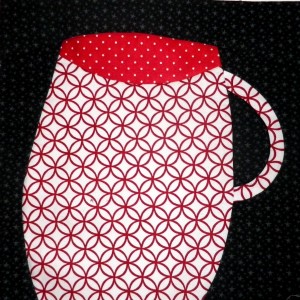 I woke up before the alarm this morning and couldn't fall back to sleep, so I got dressed and headed to the studio to make the curvy cup that's been in my head for the past month.
It's a little larger than I planned … do you suppose that had anything to do with the early hour and my thirst for a big cuppa coffee?
The cup was constructed as in my directions, with curved lines for the top and sides of the mug and an extra curved section at the top to show the inside of the mug. I took a few in-progress photos–I'll likely blog about them later, but in the meantime, you can see them in my flickr set, Improv Mug Step-by-Step.
The handle was made from a 1 1/2-inch wide bias strip, as described here:
Vines and Handles: A Closer Look at Bias Strip Appliqué
I inserted the ends into the seam on the side of the mug and then stitched it down by hand.
I realized the other day that I had broken my own rule and added my first block to the list before I posted it (outside of the announcement post on the first).
So here it is, officially 🙂