Tomatoes, Limes and Tall Shoo Flies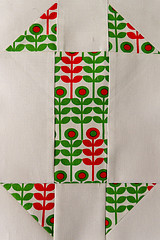 Welcome to the Block Lotto 2013, a year of rectangular blocks. All of our blocks this year will be 6-inch by 9-inch (finished size) rectangles.
The block for January is a stretched variation of the traditional Shoo Fly block.
Print-friendly (PDF format) directions for making the block are here:
Tall Shoo Fly Block Directions
If you want to try a different method for making those Half-Square triangle units in the corners, here's the link to my tip sheet on making them a few different ways (updated with a couple of tips from others):
Sophie's Tips for Making Triangle Squares (HST units)
(Many of the in-progress photos were taken while I was making my January blocks 😉
Fabrics
Our blocks will be made from two fabrics:
WHITE  background fabric may be solid or a white-on-white (WOW) print.
SHOO FLY fabric is a print in any combination of white, true reds, tomato red, spring greens, lime greens and black.  As the title of this post indicates, let tomatoes and limes be your inspiration this month.
Shoo Flies and the Block Lotto
This is the third time we have made a version of the Shoo Fly block for the block lotto.
In March, 2008 we made 6-inch traditional Shoo Fly blocks in floral fabrics.
In April 2010, as part of our year of liberated quilting year, we made 8-inch Wonky Flies
It was a popular block in both versions.  You can find a couple of quilts made from both blocks in ourGallery. I couldn't find June's Wonky Fly quilt (maybe it never got posted here and I remember seeing it on her blog?), but here are links to  Michelle's Wonky Fly, My Mini-Wonky Fly Doll Quilt,  and Vivian's (traditional) Shoo Fly quilt.
Tags
Please use the tag Tall Fly for posts about this block.
The Virtual Quilt
These blocks were made by Cyndi, Debbie, Ginny, Kate, Kathie, Maree, Margaret, Nann, Rho, Toni and me. Thanks everyone for the photos of these great blocks.
You can click the individual "blocks" to see the full size photos or see them all in my Flickr photo set Tall Shoo Fly Lotto Blocks. If you are a maker of some of these blocks, don't forget that you need to post your blocks in an individual post to be included in the drawing. 
A Note About Color
Because of the differences in lighting, cameras and computer screens, it's difficult to judge color.  Because I know the photos as they appear on my screen or yours aren't necessarily accurate, I rely on everyone's judgement about the colors of their fabrics.  Backgrounds should be white (not cream).  Shoo Fly fabrics should NOT be dark red, pink, olive green, evergreen or turquoise.  I will probably not include my red-white-black shoo fly because the red is really too dark and I've heard from one of the sneak peekers about one a green block she's decided is too dark and will be replacing.