Weekend Update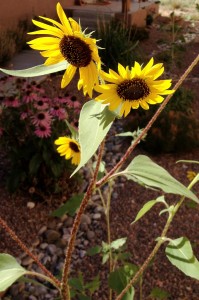 The sunflowers outside my house are finally blooming … so the end of summer must be near. I don't know if they were ever consciously planted here, I have volunteers everywhere along the path to my studio door.   They are so cheerful, I don't want to pull any of them out … even this little guy that is clearly not growing where the sunflowers were meant to be.
Are you wrapping up summer–or winter, for those south of the equator, already in back to school mode, or, like me, hanging onto summer, now that the sunflowers have bloomed, as long as you can?
Please take a moment to share a link from your blog on any topic of your choice, using the link below.
FYI, I have some ideas about making some (small) changes to our Linky Party.  I plan to roll those out at the end of the month. Stay tuned.