Paper Piecing AND Appliqué in September – Sweet Dreams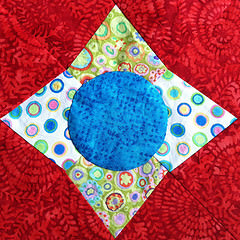 For the first five years of the Block Lotto, we used Marcia Hohn's block patterns on the Quilter's Cache web site and Marcia posted our block photos as examples of her blocks.  When I first conceived the idea of making this a year of 7-inch (or multiples of 7-inch) blocks with strong graphic design, I was feeling nostalgic, I guess, and looked at her site and found this month's block: Sweet Dreams.
Julie P made this one.
The foundation template for making the 7 inch (finished size) block is here:
For tips on making the paper-pieced portion of this block, check out Rita's tutorial on the Red Pepper blog:
Hummingbird Quilt Block Tutorial
Tags
Add the tag sweet dreams to all your blog posts about this block. The category should be blocks when you are posting photos of your blocks to enter them in the drawing; use the category sent and received when you are posting about mailing or receiving blocks; and the category show and tell to share projects you make from this block (whether they are lotto blocks or blocks you make for yourself.
Block Guidelines
We will be making blocks with a controlled scrappy color way:
RED – use red for the background (sections labelled 2 and 3 on the paper piecing templates).  It can be a solid red, a red tone-on-tone (TOT) print or a multicolor print that is predominately red.
NOTE: please be extra sure that you have pre-washed your red fabrics and that they will not run.  Whenever we have had problems with lotto blocks running (and potentially ruining a winner's quilt), the problem fabric has always been RED.
POINTS – Use 2 different fabrics for the points (section labeled 1 on template)  – one of them should be a print with a white background (combined with any colors), the other is your choice
CIRCLE – the circle can be made of any fabric-your choice
The circle should be appliquéd with turned under edges or pieced.   If you like the 6 minute circle technique or want a reason to try it, it works well for adding the 3 inch (finished size) circle to this block.  For a refresher on how that works:
You make make a maximum of NINE blocks to enter into the drawing. If you make multiple blocks, you may use the same RED fabric for multiple blocks and can repeat the other fabrics as long as each block has a unique combination of fabrics.
Printing the Template
The templates in Marcia's pattern are GIF files which makes printing them to size a challenge on some computer platforms.
On my Mac, using the Safari Browser, I had to print the template enlarged by 116%.  I suspect PC users will get the right size as is, but if you don't … I suggest that instead of or in addition to measuring the 1 inch square on the pattern, you also measure the width of the circle (3 inches) and the long edge on the triangle (7 inches) not including the seam allowances.  A tiny difference in the one inch block may seem insignificant, but when multiplied across the width of the whole block, could make your blocks come out too small or too large.
Strangely enough, I didn't foresee the problems some would have printing the PDF foundation for the June blocks and thought THIS one would be an opportunity to practice dealing with possible problems with printing foundation patterns found online … I thought another good reason to make this block is to learn/practice relatively easy foundation piecing and appliqué–two quilting skills that expand the possibilities of all quilters.
Virtual Quilt
The small sample of blocks in the virtual Sweet Dreams quilt are made by Jude, Julie P,  Kathy, Peggy and me. Don't forget that even if you have emailed me photos of your blocks and they appear here, you must post them in order to added to the list for the drawing at the end of September.
You can see the full-size photos of these block photos in my Flickr photo set Sweet Dreams Lotto Blocks.
Thank you to everyone who made and photographed their blocks to make this virtual quilt possible.
Mod-Mod Quilt-Along
The QAL update will be published mid-month. In the meantime, here's the number of the month's blocks you'll need for each of the 6 quilt sizes:
| | | | | | | |
| --- | --- | --- | --- | --- | --- | --- |
| | Small | Crib | Throw | Twin | F/Q | King |
| Sweet Dreams Blocks | 3 | 3 | 3 | 3 | 6 | 12 |
In all the quilts, the sweet dreams blocks always appear in three-block chains.