November 2014 Recap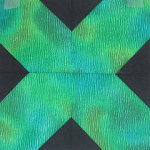 In November, 38 quilters made 209 Easy X blocks.
Karen made this one.
The blocks were won by four quilters: Elizabeth, Jen, Julie and Nancy. Congratulations, again to all of you.
The guidelines and link to the block pattern can be found in this post:
X Marks the Jewel-Toned Spot in November
In November, four NEW quilters joined the Block Lotto: Lori, Marianne Peg and Robin.  I hope you will stick around–everyone DOES win eventually 🙂
Tag
Tag for ALL blog posts about November's block: Easy X

Also In November
We had a giveaway: Birthdays, Celebrations and a  Giveaway
Total Blocks Posted: The list
Here's the archive of blocks made in November and who made them.
Blocks entered into Drawing:
Andrew – 1
Barbara S – 1
Cathy L – 3
Charlene – 9
Debbie – 4
Dena – 3
Elizabeth – 9   *** WINNER ***
Helen – 1
Jen – 9 *** WINNER ***
Jude – 2
Julianne – 9
Julie P – 9   *** WINNER ***
Julie W – 6
Karen N – 6
Kathie – 2
Kathy S – 8
Laura – 9
Laurie – 9
Lori – 9  ***NEW***
Maree – 9
Margaret – 4
Maria – 4
Marianne – 6 ***NEW ***
Nancy – 9   *** WINNER ***
Nann – 9
Pat – 9
Peggy M – 9
Robin – 2 ***NEW***
Sharon – 9
Wilma – 6
Blocks donated (no chances in Drawing):
Andi – 2
Ginny – 2
Karen B – 3
Laurina – 1
Mari2 – 2
Rho – 3
Sophie – 2
Mod-Mod Quilt-Along Info