Three Familiar X and Plus blocks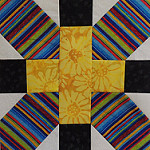 I always feel a little silly posting my blocks, when most everyone has already seen them in the block pattern. But I know from experiences that if for some reason the numbers look wrong (comparing the list on the At-a-Glance page with the spreadsheet I maintain) that if I haven't posted my blocks in an individual blog post, it makes it harder to figure things out.
That's also why I ask the sneak seekers who have shared block photos for the virtual quilt to be sure to post their blocks in their own blog post, too.  To help me keep straight how many blocks have been made and who made them.
Here are my three blocks, donated without chances, made in permutations of all the options in the directions.