Blocks arriving, and 4 Summer Reading blocks for donation
Thanks to Cathy K, Julianne, Karen B, Kathie, Kathy S, and Peggy M for the pretty Rail Fence variations that have arrived.  It's so fun to walk out to my mailbox and find the wonderful soft envelopes of fabric goodness.  I couldn't resist, I have started laying them out to see how they would look.  Such wildly different fabrics, and they're blending together so nice!  My children are trying out some alternate arrangements as I type.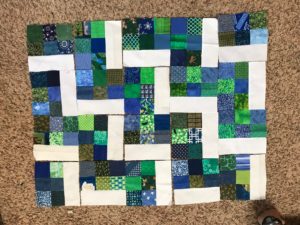 I love books, so I couldn't resist making some of the Summer Reading blocks.  I'll have to make some more for myself, but these four are for donation to the lotto.   My definition of "low volume" seems different than some of the other blocks I've seen, hopefully these blocks are OK.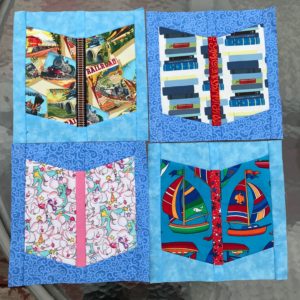 Hope you're all having a lovely June, I know I am!
Linda E in Northern Minnesota.