The Sneak Peek Email has been Sent
If you have made and posted Cool-colored Jacobs Ladder blocks this month, you should have email from me, reminding you to check the list on the At-a-Glance page to make sure your blocks are correctly listed and with info about the September block.
If, like me, you haven't yet made any Cool Ladders, you have until Friday at noon (on the US east coast) to be included in the drawing for these seriously cool blocks.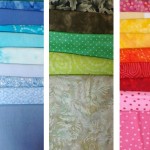 If you're curious about fabrics for next month, here are some that I pulled from stash for consideration.  You'll need:
BLUE: A sky blue from a good weather day.  It can be solid or a tone-on-tone (TOT) print. You'll need a square approximately 11 inches.
GREEN: Solid, TOT or multi-color print fabric in a shade of green. You'll need to be able to cut a bias strip for the stem, but large scraps should work for this.
WARM: Solid, TOT or multi-color print in colors from the WARM side of the color-wheel: red, pink, orange, gold, or yellow. If you have fabric scraps, you can probably use them here, too.