At a Glance
March 2014 – Star Chain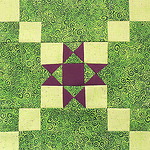 The block for March is a big, 14-inch square (finished size)  Star Chain block, made from green with the quilters choice for two other fabrics, one light and one with high contrast.
Guidelines for this month are here:
Star Chains on Green for March
If you make multiple blocks, you may use the same fabrics in multiple blocks.  Each three fabric combination must be unique in each block.
The maximum number of blocks you can make and enter for chances in the drawing this month is FOUR.
This Month's Tag
Tag for ALL blog posts about this month's block: Star Chain

Monthly Topic for Block Lotto Linky Party
Let's Blog About Spring (or Fall)
Quilt-Along Info
March update – Mod-Mod Quilt-Along
February update – Mod-Mod Quilt-Along
Introduction and January update: It's a Mod-Mod Quilt-Along
Total Blocks Posted So Far: 35
Blocks entered into Drawing:
Andrew – 1
Barbara S – 1
Cathy L – 4
Dena – 2
Jo S. – 4
Julie P – 4
Karen N – 4
Kathleen – 4
Maree – 1
Blocks donated (no chances in Drawing):
Jude – 2
Nann – 4
Sophie – 4