The April Sneak Peek
The sneak peak email with the information for the April block has been sent.
If you made and posted Star Chain blocks earlier this month, you should have email from me–if you should have, but didn't receive it, let me know ASAP.
This is a good time for everyone who has made blocks, to confirm that I have correctly captured your information on the at-a-glance page.
If you haven't yet made blocks for March and are curious what April will bring, we'll be making 7-inch square blocks in a color-way suggested by Kim earlier this year.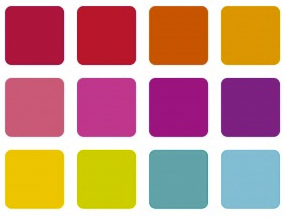 These are the examples that the Vancouver Modern Quilt Guild provided as  examples of the bright, uplifting colors they wanted in their To Boston with Love project last year.
For the April Block Lotto, I'm asking that you use solids or tone-on-tone (TOT) prints, combined with white (solids or white-on-white). By TOT, I mean prints that are printed in shades of the same color, for example, a red printed with a darker red or a fabric printed in many shades of pink.
April's block is one of those that can be made a couple of different ways–depending on the approach you choose, charm squares and/or layer cakes pre-cuts could work well for this one.