About Us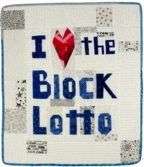 Welcome to the home of the Block Lotto.  The Block Lotto has been a monthly online activity for quilters since January 2002.
The Block Lotto is open to all quilters, world-wide, at any level of experience.  No commitment is required beyond mailing the blocks you enter and keeping in touch:  make and enter blocks when you want; sit on the sidelines and read along when a block doesn't really interest you or you don't have time.
On the first of each month, the new block and guidelines are published.  Participants make blocks and post photos of them.  Each block made becomes a chance to win a set of blocks at the end of the month.
Learn More about the Block Lotto
Blocks we've Made, month by month, year by year
About Sophie
I started the monthly Block Lotto as a discussion on a quilting forum in January 2002 . . . and still have lots of quilt block/color ideas.  Whether you have been playing along for years or just discovered the Block Lotto, I'm glad you're here.