You have MAIL – with August block mailing info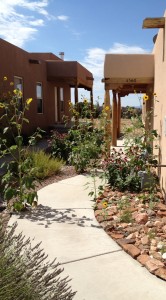 If you made and posted blocks in August, you should have email from me with the mailing info.   All four of our winners were very quick to get in touch, making it possible for me to be quick, too, and put the mailing chart together pretty quickly this month.
Remember there are tips for mailing under HELP, specifically in the Mailing Squishies post
If you should have received the mailing info, but don't have a message from me, let me know ASAP.
I'm sharing this photo of some of the sunflowers that have volunteered on my path–some of my own last flowers of summer. If you look hard, you might also see some fading Echinacea/cone flowers and the lavender in the foreground.
It also is a good example of sky blue, don't you think?