September Recap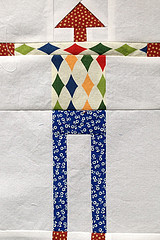 In September, 20 Quilters made 87 Boomer and Boomerette blocks.
Our winners
The winners for September 2013 were Kathie and Madison.  Because Madison did not reply within 2 days of my email notification to her, an alternate winner was selected – Margaret.  Because Madison did not mail her blocks from the previous month (her first lotto blocks), I didn't have faith that she would mail these, either and removed them from the list.  After removing Madison's blocks, we had a new total of 80 blocks made by 19 quilters this month.
This Month's Tag
Tag for ALL blog posts about the September blocks: Boomer

September Topic for Weekend Update
In September,  the topic for our Monthly Linky Party was Let's Blog About Color 
 The Blocks
This post becomes the archive of the list of blocks made.
Total Blocks: 87
Blocks entered into Drawing:
Bonita – 8
Cathy L – 9
Elizabeth C – 2
Ginny – 3
Helen – 1
Julie W – 2
Kathie – 8  *** WINNER #1 ***
Kathleen – 6
Kathy S – 1
Laura – 9
Madison – 7  (Removed from list for lack of mailing/response)
Margaret – 3 *** WINNER #2 ***
Nann – 2
Peggy – 2
Vicki – 4
Blocks donated (no chances in Drawing):
Elizabeth – 2
Linda – 1
Marybeth – 1
Julie – 6
Laurina – 3
Sophie – 7