Bead on a String is the February Block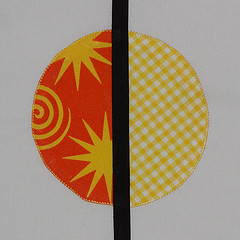 In February,  we are making a 7-inch square (finished size) Bead on a String block using white (a solid or white-on-white print) for the background, black (solid, black-on black or white-on black prints) for the string and two fabrics (solid, tone-on-tone or multicolor prints) of your choice of yellow, orange or maroon for the bead.  Ellen made this one.
The block pattern directions are here:
Bead on a String Quilt Block Directions
The tips that have been shared for machine appliqué and alternative ways to add the circle to the background are here:
More Tips for Making the Bead-on-a-String Block
You can make a maximum of 9 blocks for chances in the drawing at the end of the month.  As always, if you like, you can make more and donate them to the pot. If you make multiple blocks, you may use the same white  and black fabrics in all your blocks, and can repeat the yellow, orange and maroon fabrics as long as each block has a unique 2 fabric combination for the bead.
Our color way this month was suggested by Debbie. I love it and hope you do, too.
 Tags
Add the tag bead to all your blog posts about this block. The category should be blocks when you are posting photos of your blocks to enter them in the drawing; use the category sent and received when you are posting about mailing or receiving blocks; and the category show and tell to share projects you make from this block (whether they are lotto blocks or blocks you make for yourself.
Appliqué Tips
I know a lot of quilters avoid the a-word, appliqué, but I honestly do believe that it's worth the effort to develop some level of appliqué skills.  It makes more quilt designs and patterns do-able.  Attempting the circle appliqué in this month's block might even remove a little bit of the fear of the a-word.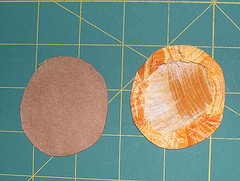 These large circles are a great place to start because circles are easy to prepare. The block directions outline the method.  You can find step by step directions with photos on my blog, here:
Preparing circular elements for Appliqué
These circles were centers for an appliqué flower that was a lotto block in July 2007.  You can see some of those blocks on Flickr here: Purple Posies.  During our year of traditional blocks in 2008, in December, we also made a simple circle appliqué block, originally publishes as Polka Dot. You can see some of those blocks in these posts.
I wanted to offer those previous lotto blocks for those that think you can't do appliqué … some of those quilters might have thought the same thing … until they tried. I hope you will try, too.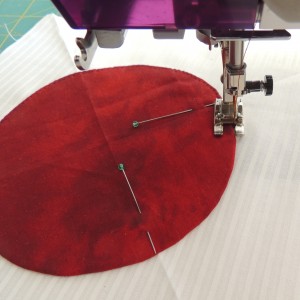 For those who are visual learners, or prefer actual photos to the drawings in the block directions, I blogged my process as I made the first three blocks.  You can follow along with me here:
Sew Along with Me – Bead on a String
The appliqué in this month's Bead on a String block can be completed by hand or machine.  If you are machine quilting, you can choose to use a buttonhole stitch, blind hem stitch, open zig zag stitch or straight stitch, depending on your personal preference and what you have available on your machine.  I'm asking that you don't use a dense zig zag (AKA satin stitch) to maintain a consistent look for your blocks and let the shape and the fabric be visual impact of the block.
If you using a straight stitch, you'll be stitching ON the appliqué, very close to the edge.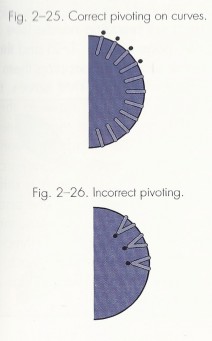 If you are using a buttonhole stitch, blind stitch or open zigzag, you will be stitching in the background, at the edge of the appliqué with the stitch taking a bite into the appliqué.  As you work your way around the circle, you'll need to pivot your machine to follow the circle.  As you use these stitches, be sure to pivot when the needle is in the background to maintain the shape of the stitch.
These images, from Sue Nickels' book, Machine Appliqué, A Sampler of Techniques, shows what happens to a buttonhole stitch when you correctly pivot (when stitch is in the background) and when you don't.
A workshop with Sue Nickels was my introduction to machine appliqué–if you are interested and have the chance, I highly recommend her as a teacher (also for machine quilting).   Her book is quite old–it was first published in 2001–but is still available for a reasonable price, new or used.  It has patterns for three appliqué sampler quilts and instructions for several techniques for machine appliqué.
Mod-Mod Quilt-Along
The QAL update will be published mid-month, but because some of the sneak peekers are already asking, here's how many of the Bead-on-a-String blocks you'll need.
Here's how many of these blocks you'll need this month, for each of the 6 quilts:
| | | | | | | |
| --- | --- | --- | --- | --- | --- | --- |
| | Small | Crib | Throw | Twin | F/Q | King |
| Bead on a String Blocks | 3 | 6 | 7 | 10 | 13 | 17 |
Going forward, I'll include the numbers for the Quilt-Along in the sneak peek and then share it publicly mid-month.  I need to keep the timing shift on this because there's already too much beginning of the month/end of the month stuff happening for the Block Lotto.
The Virtual Quilt
The blocks in this month's virtual quilt were made by sneak peelers, Caroline, Ellen, Elizabeth, Kathie, Kathy, Laurina, Peggy and me. Lining up the strings in photos is probably harder than working with the actual blocks will be, so I decided on a alternating orientation for the virtual quilt. Lighting differences make some of the "whites" appear darker in some blocks (especially mine), but this will give you an idea of how a bunch of these blocks will look together … and they'll be even better in person.
You can see the full-size versions of the virtual blocks in my Flickr photo set Bead on a String Virtual Blocks.
Don't forget that even if you have mailed a photo of your blocks for the virtual quilt, you must create a post and share the photo in order to be included in the drawing this month or to have your blocks added to the pot (if you don't want to be included in the drawing).