Triangles-in-a-Square is the April Block
In April,  we are making a 7-inch square block called Triangles-in-a-Square in bright colors with white.
The block pattern directions include three methods for making it:
Triangles-in-a-Square Block Directions
Depending upon the method you use to make your blocks, you may also find these tip sheets helpful:
Tips for Making Half-Square Triangles
Tips for Making Flying Geese Units
In April, you can make a maximum of 9 blocks to enter in the Block Lotto Drawing.
Color/Fabric Guidelines
Kim suggested this color way, which was used by the Vancouver Modern Quilt Guild for their To Boston with Love project last year. It consists of bright, uplifting colors in solid or tone-on-tone (TOT) fabrics for the triangles and white background.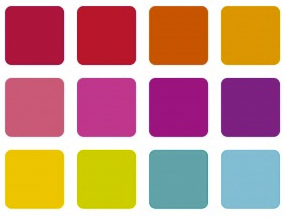 TRIANGLE fabrics may be any solid or tone-on-tone (TOT) prints in bright, uplifting colors.  This color palette show examples of colors you might choose (you can also use other bright, uplifting colors.)TOT fabrics are printed in shades of the same color, like a red fabric with a darker red design, a pink fabric printed with more shades of pink, etc. I also include batiks that are one color but have been dyed with texture or wax designs which are, again, a different shade of the same color as the base fabric.   TOT fabrics often read as solids from across the room.
Each block is made from WHITE plus three different TRIANGLE fabrics.  If you make multiple blocks, you may use the same WHITE fabric in all your blocks and use the TRIANGLE fabrics in multiple blocks as long as each block is made from a unique 3 fabric combination plus WHITE.
Tips for Making this Month's Block
For methods 1 and 2 in the block directions, I've included cutting directions for making multiple blocks with unique three-fabric combinations. You can follow one of the methods in the directions, or create your own, as long as you produce a block that looks like mine.
If you choose the paper-piece the block, using the foundation provided as method 3, in addition to measuring the one-inch square after printing, you'll want to confirm that the outside square of the pattern measures 7 1/2 inches.  Sneak Peekers discovered that if you accidentally have the "shrink to fit" option selected when you print the page, it will reduce the size of the pattern slightly–it's small enough that you might not see it in the one-inch square, but the block will turn out too small.
Tags
Add the tag triangle square to all your blog posts about this block. The category should be blocks when you are posting photos of your blocks to enter them in the drawing; use the category sent and received when you are posting about mailing or receiving blocks; and the category show and tell to share projects you make from this block (whether they are lotto blocks or blocks you make for yourself.
 Inspiration
The idea for this block came from this scrappy quilt that I made about 8 years ago:
Our block is found at the center of these 10-inch scrappy blocks.  If you put our lotto blocks on point by adding triangles (cut from 5 7/8-inch squares, cut diagonally in half), you'll create 10-inch blocks like these. When I made this quilt, I remember thinking that the proportions were kind of magical (and kind to beginner quitters:
a 5-inch square center made from three triangles (finished size), becomes
a 7-inch square after the white triangles are added to put it on point, becomes
a 10-inch square after colored triangles are added to put it on point again.
This quilt has 3 inch white sashing and colored corner stones added. When I started choosing and designing 7-inch blocks this year, I remembered this quilt.
More Inspiration – The Virtual Quilt
These blocks were made by sneak peekers Charlene, Debbie, Elizabeth, Helen, Julie W, Laurina, Margaret, Peggy, Sandy  … and me.
You can see larger photos of all these blocks in my Flickr photo set Triangle-in-a-Square Virtual Blocks.
Mod-Mod Quilt-Along
The QAL update will be published mid-month. In the meantime, here's the number of  the month's blocks you'll need for each of the 6 quilt sizes:
| | | | | | | |
| --- | --- | --- | --- | --- | --- | --- |
| | Small | Crib | Throw | Twin | F/Q | King |
| Triangles-in-a-Square Block | 3 | 3 | 6 | 9 | 9 | 12 |