Summer Sunrise (Block) in June
Are you ready for a challenge?
I truly believe this 7 by 14-inch (finished size) Sunrise block is SO much easier than it looks, but it might look a little scary to you.  Peggy made this one.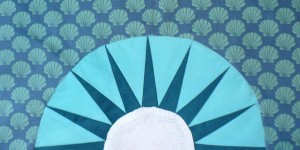 Because of the larger size, you make make a maximum of SIX blocks to enter into the drawing.
If you make multiple blocks, depending on the total number of blocks made (and number of winners we have), I may be asking you to mail a maximum of TWO to each of the winners.
Tags
Add the tag sunrise to all your blog posts about this block. The category should be blocks when you are posting photos of your blocks to enter them in the drawing; use the category sent and received when you are posting about mailing or receiving blocks; and the category show and tell to share projects you make from this block (whether they are lotto blocks or blocks you make for yourself.
Block Pattern Templates
There are two ways to construct the arc with the rays of the sun. You can print the foundation below and paper piece it:
Or you can cut the pieces in the arc from templates:
However you make the arc, you'll need to cut the half circle in the center and the large background piece from these templates:
Center-and-Background-Templates
Color/Fabric Guidelines
You can make your block from 2 or more colors from this list:
WHITE – may be solid, white on white (WOW) print or a print which is predominately white and contains other colors in this palette.
LEMON YELLOW – may be solid or a tone on tone (TOT) print or a multicolor print that is predominately yellow–please, nothing that would be considered more "gold" than yellow. We want a light, bright take on a traditional blue/yellow/white color-way.
AQUA – may be solid or a tone on tone (TOT) print or a multicolor print that is predominately aqua.
TURQUOISE – may be solid or a tone on tone (TOT) print or a multicolor print that is predominately turquoise.

Note: I am using the color words "aqua" and "turquoise" to indicate light and medium shades of blue-green colors. The too-blue greens and too-green blues that I asked you NOT to use in March and May are good choices for June.
Making the Sunrise Block
I made these four blocks.  I was going for variety in color placement to show you that you can put the colors wherever you want in the block.
You may notice that I loosened up the guidelines previously published and your yellow, aqua and turquoise fabrics can contain a small amount of another color.
For each block, you may choose 2, 3 or 4 of these colors–and the placement of the fabric within the block will be up to you.
The top block and bottom two blocks were made by paper-piecing the arc, adding the outer background using the 6-minute circle technique and the inner half-circle with machine appliqué.
The second from the top block was entirely pieced by hand.
I will share my experience in making the blocks in a separate post (and invite all of you to share your experience/tips/suggestions, too.
Inspiration
I recently blogged about how inspiration is really only the beginning … and how I sometimes start with one idea (the inspiration) and it morphs into something quite different.  The inspiration for this block came from a quilt I saw in a blog post about New York Beauty quilts on Barbara Brackman's blog, Material Culture.
I thought the strong graphic quality of this quilt made it a good fit within our year of geometric, graphic blocks.
Virtual Quilt
Because of the perfect storm of my back injury and tardiness in getting the sneak peek out to everyone and the challenge of this block, there's no virtual quilt this month. I hope that Peggy's block at the top of the page and mine will spark your imagination enough to try the block.  It's easier than it looks … honest!
Here are a couple more, from sneak peekers, Christa and Andrew.
Mod-Mod Quilt-Along
The QAL update will be published mid-month. In the meantime, here's the number of the month's blocks you'll need for each of the 6 quilt sizes:
| | | | | | | |
| --- | --- | --- | --- | --- | --- | --- |
| | Small | Crib | Throw | Twin | F/Q | King |
| Sunrise Blocks | 4 | 4 | 4 | 6 | 10 | 14 |
In all quilt sizes, pairs of blocks are sewn together to form a "full sun."