Shhh … It's the September SNEAK PEEK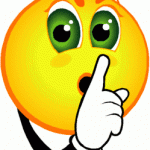 If you have made and posted Many Triangles blocks, you should have received an email message from me with the sneak peek at the guidelines and direction for the September block.
If you should have received the sneak peek but don't have the email, let me know.
Similarly, if you shouldn't have received the sneak peek (because you haven't made/posted blocks this month) but DID receive the email, please let me know that I goofed.
Next month we will be making blocks from at least four fabrics:
White – solid or white on white (WOW) for background
Green – solid, tone on tone or multicolor print that reads as green
Plus 2 fabrics in a color of your choice, one should be darker than the other.
In honor of the members of our community in the southern hemisphere, the theme next month will be: Think Spring!