Think Spring (!?) in September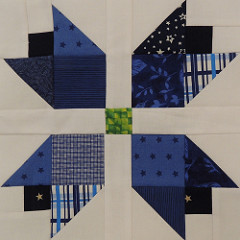 While some of us anticipate the official arrival of Autumn later this month, this 9-inch traditional Tulip block celebrates the Spring that is around the corner for the rest of us.
You can make the block scrappy or not, but each block should have:
White background – solid or white-on-white (WOW)
Flower fabric(s) – color of your choice
Bud fabric – darker, but same color as your flower fabric
center square – green
I made this scrappy blue one.
The fabric guidelines and my directions for making this block can be found here:
You may make a maximum of 9 blocks for chances in the drawing at the end of the month. The target set size for the winners will be 48 blocks.
If you make multiple block pairs, you can use the same white background and green center in all your blocks.
Tags and Categories
Add the tag tulip to all your blog posts about this block.
The category should be blocks when you are posting photos of your blocks to enter them in the drawing; use the category sent and received when you are posting about mailing or receiving blocks; and the category show and tell to share projects you make from this block (whether they are lotto blocks or blocks you make for yourself.)
The Virtual Quilt
Here is a sampling of blocks, made by sneak seekers, Karen N, Laurie, Marianne, Peggy and me.