March 2016 Recap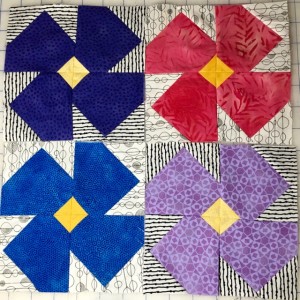 In April, we made a popular block from the Block Lotto's past: Violet.
Barb P made these four Violet blocks. In total, 46 quilters made 222 Violet blocks which were won by Karen N, Glenna (a first time winner!), Kristin, Erin and Karen L (a newbie!)
Complete guidelines for April are in this post:
First Flowers of Spring – Violets Redux
The tag for ALL blog posts about this  block: violet

This post is the public archive of blocks made and who made them.
Blocks entered into Drawing:
Barb P – 4
Barbara S – 1
Carol – 4
Cathy L – 9
Celine – 9
Charlene – 3
Christa – 1
Deanna – 5
Debbie – 4
Deborah – 4
Elizabeth – 9
Ellen – 9
Erin – 4  ***WINNER #4***
Gail – 5
Glenna – 9  ***WINNER #2***
Janet – 1
Jude – 3
Julianne – 4
Julie W – 3
Karen L – 3 *** NEW *** ***WINNER #5***
Karen N – 4  ***WINNER #1***
Kathie – 6
Kristin – 9 ***WINNER #3***
Laura R – 9
Linda – 5
Lori – 4
Maree – 6
Margaret – 5
Marianne – 3
Mariella – 6
Marsha – 3
Mary B – 2
Mary S – 5
Myrna – 6
Nan – 9
Naomi – 2
Rachel – 7
Robin – 7
Susan 2
Teresa – 5
Blocks donated (no chances in Drawing): 
Julie P – 4
Kathleen – 3
Laurie – 2
Linnea – 3
Peggy – 1
Sophie – 5
Susan 2