3 Patch block lotto winnings
Hi, I just thought I would post a picture of the quilt top I have finished using the lovely 3 patch blocks I won.  I made a few more so I could increase the size a wee bit.  I have yet to get the backing and quilting sorted out but you can get the gist.  I think the colours go great with the grey tie-dye sashing and I have bought some purple cotton that I am thinking of using for the back.
Thanks again to all the lovely ladies who sent me blocks and good luck to everyone who takes part in the lotto draw.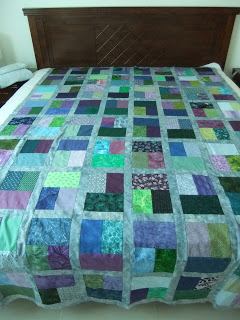 Jo in Oman