Janet's Modern Clover Top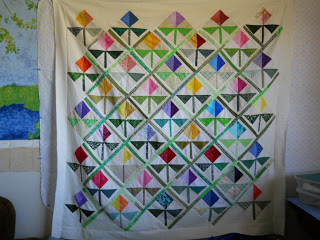 First a bit of old news.  Here are my clover blocks pieced and ready to back and bind.  I'm going to use a scrappy green binding.  I was thinking about doing a scrappy green border, but when I had it on the design wall, it seemed to detract from the clover too much.  I really love this quilt.  I'd never set anything on point before so it was a bit of a challenge for me.  I have a few clover left over that I plan to turn into a spring wallhanging.  Thank you everyone who helped make this beautiful quilt top.
And for a bit of new….here are some curved rail blocks for this month. I love batiks and have three more put aside that hopefully I will have time to sew…but for now…here are 6 blocks for me.
And also….my violets are packed and ready to go to the post office in the morning to start their trip way down south.
That's it for now….
Janet S