March 2012 Recap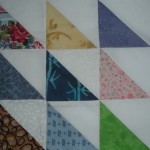 In March, 51 quilters made a total of 286 Scrappy Triangle blocks.
Congratulations, again, to our winners: Karin, Laura E., Marie (a newbie!), Marilyn, Nan and Susan.
Welcome again to our March newbies, Barbara, Karen B and the lucky Marie.  I hope you had fun making the blocks and will continue to play along.
Before I reset the list and info on the At-a-Glance page, here's the archive of blocks made in March.
Blocks entered in Drawing:
Ana – 2
Andi – 6
Andrew – 4
Barbara – 1 *NEW*
Bea – 3
Christa – 1
Cyndi – 9
Debbie – 9
Gail – 4
Ginny – 6
Glen – 9
Gwen – 9
Helen – 2
Jo – 6
Julie P – 4
Karen B – 4 *NEW*
Karen S – 8
Karin – 9
Kathie -2
Kathy S – 9
Kelly – 2
Kristin -3
Laura E – 4
Laura R – 9
Lauren – 2
Laurina – 7
Linda – 6
Linnea – 5
Liz – 9
Maree -9
Maria – 9 *NEW*
Marilyn – 9
Mary Jane – 9
Michelle – 4
Nan – 4
Raelene – 9
Rho – 9
Sharon – 2
Shelley – 5
Susan – 4
Terri -4
Terry – 5
Vivi – 4
Wendy F – 5
Wilma – 8
Blocks donated (no chances in Drawing):
Cathy – 2
Debra – 9
Julie Wa – 2
Karen W – 1
Kate – 9
Rho – 1
Sophie – 9