Wonky Shoo Fly Doll Quilt
Despite all the things gone wrong and Grace the cat's interference help, late last night, I finished this doll quilt, made from 4-inch wonky fly blocks. We made a larger version of the Wonky Shoo Fly block for the lotto in April 2010.
Way back when (3 years ago), I made the blocks from the small scraps left on my table after making those loving free-pieced words–some of which ended up in my quilt, Whole Lotta Love. The floral print is from a strip of a recycled vintage sheet which I won in a blog giveaway.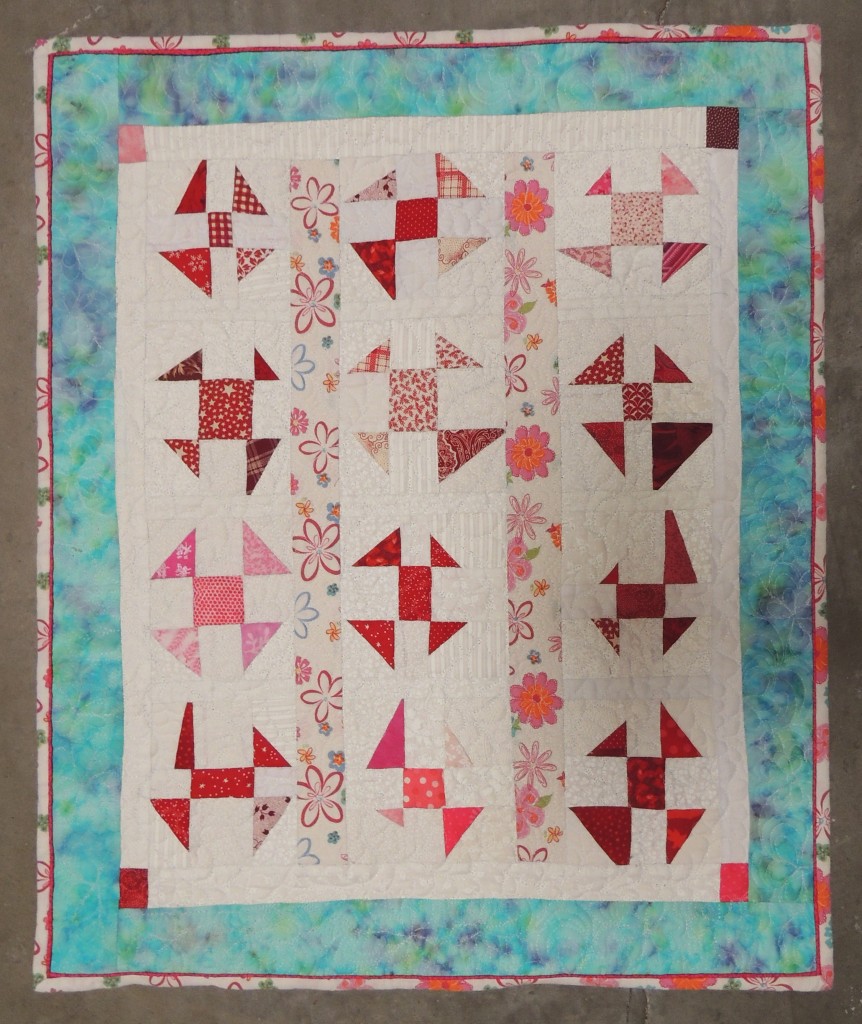 The quilt measures 19 by 24 inches.
I thought I'd be finishing this up last winter, during our try something new theme for the Weekend Update. The new thing I tried was flipping the quilt over and free-motion-quilting the borders from the back, tracing, then echoing the flowers in that vintage sheet.
I also expected to finish this quilt soon after the doll quilt I finished in February, made from the mini-Tall Shoo Fly blocks (Starry Skies and Shoo Flies) and thought it would be interesting to use two different methods for piped binding and compare the experiences/results. The pink piping here is an actual separate piping, sewn into the binding using Susan Cleveland's Piping Hot Binding technique. It's more complicated than the faux piped binding method I used in the other quilt, but–even though this is far from perfect–I get better results.
There are a couple more photos and a link to the wonky shoo fly tutorial on my blog, here: