Red Skies with Tall Stars in August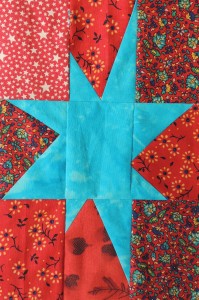 Our lotto block for August is a rectangular adaptation of Bonnie Hunter's Maverick Star. We'll be using her block pattern with one small change (described further down this post):
This month's block is a great example of one way to turn a change the size/proportions of a quilt block pattern.
As usual, you may make up to a maximum of 9 blocks for chances in the drawing at the end of the month.  As always, if you like, you can make more and donate them to the pot.
Tags
Add the tag Tall Star to all your blog posts about this block. The category should be blocks when you are posting photos of your blocks to enter them in the drawing; use the category sent and received when you are posting about mailing or receiving blocks; and the category show and tell to share projects you make from this block (whether they are lotto blocks or blocks you make for yourself.
Fabric Guidelines
Background fabric should be red: it can be solid, a tone-on-tone (TOT) or a multicolor print that is predominately red and "reads" as red–for example, if someone looked at the fabric from across the room, they'd call it red.
Star fabric is quilter's choice.
You can make your blocks from 2 fabrics only (one red and one star fabric) or make scrappy blocks by using multiple red fabrics for the background OR multiple fabrics for the star.  In an effort to make all the blocks (scrappy or not) play together nicely, I'm asking that if you use scrappy star fabrics, you combine them with a single red fabric (and vice versa).
If you make multiple blocks, you may use the same red as background for multiple blocks and a unique star fabric for each.  If you are making scrappy blocks, just make sure that each is unique and that no two blocks look closely related.
Adapting the Pattern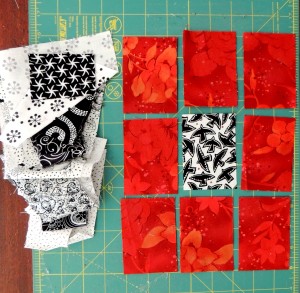 Were using Bonnie's excellent directions with ONE difference: instead of beginning with 8 neutral 2.5 inch squares and one red center square, we'll start with 8 red 2.5 by 3.5 inch rectangles for the background and one rectangle from fabric of your choice for the star center.
Once you have cut and laid out your rectangles, the directions from there are the same.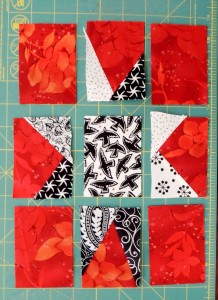 When you add your star points to the side rectangles, be sure to pay attention to their orientation: you'll be adding the points to two rectangles with a "tall" orientation and two with a "wide" orientation.  The second attached photo shows you the rectangles with the star points added.
These blocks go together surprisingly fast … and I think the rectangular proportions work really well for them. Making my lotto blocks, I was inspired to cut a bunch of background rectangles for myself and use them in a leader-ender project for me, me me 😉
The Virtual Quilt
The 30 blocks in this month's virtual quilt were made by sneak peekers,Andi, Angie, Ginny, Julie P., Karen, Kim, Margaret, Pat K., and me.
You can find full-size versions of these photos in my Flickr photo set Tall Liberated Stars.