A Scrappy Leaf, a Monochrome Bird … and some more sampler blocks
Even though I already knew in January that I wanted to make a red and white sampler with this year's lotto blocks … it wasn't until sometime last week when I decided on which red fabrics and whether I'd go scrappy within each block or not.
Once decided, things are going together quickly.
I started with some Kona white solid yardage and a set of 10 quarter yards of these indigo reds–9 prints and a red solid–purchased at a quilt show a long time ago.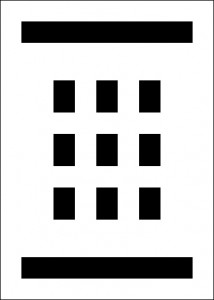 Back in January, I shared this simple plan for a sampler quilt.  My idea was to make a quick quilt with lots of white space for quilting.
My idea was that I would make four of two of the wide blocks to make the horizontal bars at the top and bottom, 9 blocks would be featured in the center and the 12th block would be used for the label.
I had been thinking that the house block would become the label, but after seeing the blocks made so far, I think the log cabin variation will go on the back with the label info written onto the white round of logs.  Here are all the lotto blocks we've made so far, except the house.
There will be more space between the blocks in the finished quilt.
I suppose the moral of this story is that it's not too late to make your own sampler if you have liked this year's blocks. One advantage for me of waiting to make the blocks was that, after making the Oak Leaf pattern, it occurred to me to make the flying geese individually and then square up and cut down the bonus triangle squares and use them in scrappy versions of the Oak Leaf, Tall Ship, Tall Fly and Tall Star blocks … and use them all up.
I didn't realize how picture block heavy the blocks this year are … I know that there's usually better balance of types of blocks/techniques.
If this kind of blocks is NOT your thing, you might be happy to know that my challenge for next year (for myself) is to choose/design a set of predominately geometric blocks.
If you are sampling one or more lotto blocks for a project of your own and want to post a progress report, use the category block lotto community and add the tag my sampler.