And the Winners are …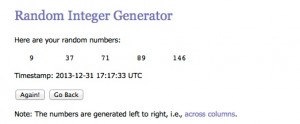 First,  for the Stripes Lotto Blocks.  We ended with a total of 225 blocks, which means each of 5 winners will receive a set of 45.  And the winners, as determined by Mr. Random.Org are:
Belinda
Elizabeth C.
Julianne
Kathie
Mary Jane
Mr. Random.Org was a little difficult when it came time to pick the winners for our bonus drawing for Duds and Orphans.

He kept wanting to pick Kathy … but after a few tries, we ended up with this list of three unique winners–each will receive a set of 24 blocks:
Charlene

Kathy S.

Julie P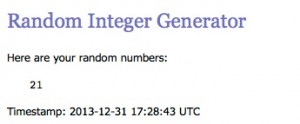 I guess sometimes good ideas ARE rewarded–Julie gets credit for suggesting this idea 🙂
Congratulations to all the winners–what a nice way to end a great year of the Block Lotto. Look for email from me soon to verify your mailing address and asking you how many of your own blocks you'd like to keep.
When I've heard back from the winners, I'll be sending out the mailing info in two separate email messages: one for the December Stripes block and one for the duds and orphans.
Happy New Year everyone!