Chevron Quilts – Old and New
There are many many others, but here are some chevron or zig-zag quilts I've seen lately.  A few, like the first two here, are older than you might guess.
This one is called simply Zig Zag Pattern has been dated as 1901-1929. It was made  by Viola Haeline Dollar Lake in Lumber City, Georgia. I found it on the Quilt Index site.
I also found this even older two color example, dated as 1850-1875, with vertical zig zags, AKA Streak of Lightning.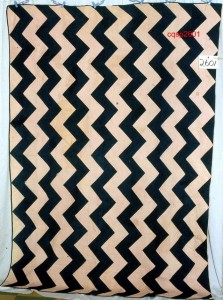 Here are four more contemporary examples.  The modern multicolor quilt arrived in my mailbox as part of a blog giveaway I had won.  It's the cover quilt from the November/December issue of Quilty. Colorful Chevrons by Christa Watson (image from the Quilty site)
The Scrappy Chevron Picnic quilt from the Moda Bakeshop blog combines rows of chevrons with brick-like sections.
The last two are closest to our lotto blocks this month.  Amy from Angry Chicken shared this sunset zig zag quilt made for her by her Grammie.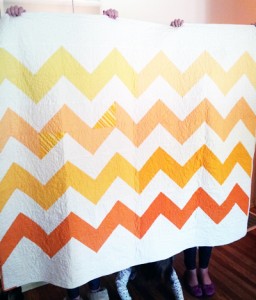 I wanted to include this one because the color-way is similar to ours.  It was made for a charity auction by Robin Kaspar.  I found it on a quilting forum (sorry, no link).