My First Block Lotto Blocks from newbie Mariella
Hello My Fellow Block Lotto'ers!  This is my first offering to the Block Lotto.  I love these pretty blocks!
Let me introduce myself, I'm Mariella from Mexico.  I'm from a big quilting family but I didn't start making quilts until about 11 years ago.  I do all my quilting with the aid of sewing machines, unlike most of my family members who have always done it all by hand.  I hold to the belief that since I started quilting so late, I need to do it in the most time efficient manner possible in order to "catch up" to my family's quilt output!  So I'm the maverick in my very traditional family!
Well, it's very nice to be here and I'm so enthused to be presenting my first blocks.  Thanks to Sophie for creating such a marvelous and wonderful phenomenon such as this Block Lotto!!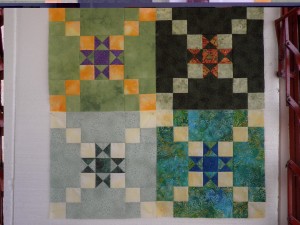 Oh, and if anyone is interested here is my quilting blog:  mexicanquilter.blogspot.com