Been thinking about the Lotto
With some of the discussion about the lotto lately, and with going back and re-reading Sophie's excellent guide to All Things Lotto, I was thinking about the Lotto and my involvement in it, and thought I'd share a little of that history for anyone who might be interested (the rest of you can skip this message, lol).
When I first joined the Block Lotto, it was hosted on about.com, and known as the Beginner Block Lotto – it had been going for a few years in various formats, but by the time I got there, it was being hosted by Sophie again and aimed at all levels of quilters – i.e. accessible to beginners. I wasn't a beginner then, but I did (and still do!) enjoy straightforward blocks that produce a lot of effort with minimal concentration.  It was also still a centralised lotto at that point (we all mailed to Sophie and she mailed to the winners.). This involvement actually predates my personal blog, but as near as I can figure, I first made blocks in either March (Queen Charlotte's Crown) or April (Johnny Round the Corner) of 2006. (Yes, 2006 – I can hardly believe it!) I know I made April blocks and I remember the March block, but can't remember if I made them, or just remember it from looking at it. Either way, it's 8 years for me now.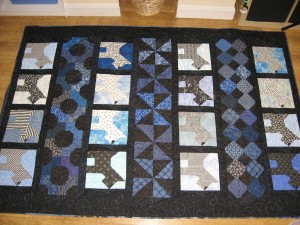 The first blocks I won, were in June 2006, and were the Scottie Dogs. It took me a long time to make a finished quilt from these (longer than from some other wins, I admit) – but the quilt is now made and enjoyed by my elder daughter.
Since 2006, I have made blocks in more months than not, and followed the lotto when it moved first to blogspot, then to wordpress. I have also acted in the sometime capacity of advisor and even co-hostess on the lotto (which, I'll tell you, really reinforced my appreciation for just how much work goes in behind the scenes!). And I've even designed a block for it – the Modern Clover block in April 2011 (which I was lucky enough to win some of – how's that for fitting?)  I made those blocks into a quilt for friend and colleague of my husband, who reached her 20th year of service at his workplace. I really love how this quilt turned out and it's a great example of the things I love about the block lotto. I never in a million years would have been able to get such a fantastic gradation of colours from my own stash…
I can't be sure how many months I've played the lotto – I'd guess my average is 9-10 times per year, as sometimes I'm just really busy and sometimes I avoid the blocks (those who know me know I'm not a huge fan of applique, for instance!).  But I've used the lotto many times to try a new technique or work in a colourway I wouldn't normally gravitate towards, and without re-reading my entire blog for the nearly 8 years it's been going (I first blogged about making lotto blocks in Sept 2006 with the Goshen Star) I couldn't even tell you how many block sets and/or quilts I've made from blocks inspired by the lotto.   For instance, this one: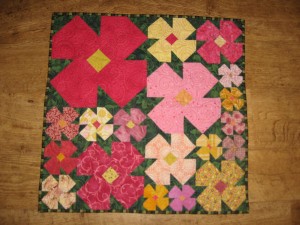 which uses the August 2011 violet blocks, in a wide variety of sizes (personal tip here – the tiny ones are really a pain!).
I've had a number of wins, perhaps even a high number, considering that some months I donate my chances – going back through, I think I've won the following block sets:
June 2006, Scottie Dogs
May 2007, Scrappy Baskets
October 2007, Batik Sawtooth Stars (forgot about this one originally – thanks to Sophie for reminding me in the comments)
May 2008, Buckeye Beauties in Green and Purple
Sept 2008, Cracker blocks
May 2011, red and white disappearing 4 patch
April 2011, modern clover (yep, two months in a row – that was a fun year!)
April 2013, bird blocks (amazingly, I think I only made one block this month and won anyway)
Jan 2014, chevron blocks.
I won't show all the quilts made from these blocks – I know the baskets were made into a number of mini quilts and the Buckeye Beauties and Cracker blocks went to baby quilts – more than one each, I think. Some may have been donated to charities if there were extras.   I'll show the red and white quilt, though, as I think it's stunning – again, the one of the wonders of the lotto is  the variety you can achieve. (This was given as a wedding present last year to my younger daughter's flute teacher, who is a big red fan.)
Where was I going with all this walk down memory lane and whatnot? Well, just this, really. I've been involved for a long time – and there are others who have as well – and that's because this is an amazing place. It's well run (anyone whose never been involved with a forum which was less well run might not fully appreciate this, but trust me – the amount of organisation and effort and above all CARE which goes into the lotto is astonishing); it's inspiring; it's fun. And that's before we even think about the things which aren't strictly lotto based, like support for those who are going through tough personal times. I've made some good friends here, as well as being lucky enough to win blocks.
And in all those wins – 9 times in 8 years (hey, good average!) I've only had a very small handful of blocks which didn't quite work out. One or two which were a little small and one or two which the colours were a little off on. I've been involved in lots of other forums and private swaps, and I'm not sure I've ever known one which was totally perfect. Even the ones I've run myself. But that's ok – total perfection isn't the point – that's why, with this lotto, there's a range of acceptable sizes and why we have to sometimes accept that someone else's interpretation of colour is slightly different than our own and just roll with it, when it's within the accepted range.
On the whole, the women (and occasionally men) who make blocks here are creative, careful individuals who do a great job and have, among them, an amazing fabric stash. If you are lucky enough to have found the lotto, for heaven's sake, stick around!