It's TIME to mail the Star Chain blocks
If you made and posted blocks in March, you should have received email from me yesterday with the mailing directions.  If you didn't get it or found a mistake in the mailing info sheet, please let me know ASAP.
Each month I ask you to mail promptly and tell you how much easier it is for me when you do so.  When I have to chase blocks, sometimes for MONTHS after they should have been mailed, it really takes a lot of the joy out of the Block Lotto for me.  I do believe that the longer you wait to mail blocks, the easier it makes for you to wait even longer.
Even though I mentioned it both in the sneak peek email that went out in February for the March block and in the March 1 announcement post with the guidelines for the Star Chain blocks, there has been some push-back about sending out individual blocks.  Here are my reasons for that decision:
Because winners would receive a target sized set of only 16 blocks, I wanted the blocks to be as diverse as possible.
My gut feeling was that you could mail one block in an envelope as a "letter," but two or more would be considered by the US Postal Service as a "parcel" and would be mailed at a more expensive rate.
I had no way of knowing that most of the March winners would be outside the US, which means that almost everyone will be paying international postage this time.  I feel that I should remind everyone in the US that everyone NOT in the US pays international postage almost EVERY month.  I LOVE that we are an international group–in March, for example, nearly one third of the quilters who made Star Chain blocks live outside the US.  That said,  I completely understand if someone decides this activity isn't for them because of the cost of postage.
Each month, when I send out the mailing info, I include a link to an (albeit old) blog post with mailing tips.  I just re-read it myself and find that I prepare and mail my blocks pretty much the same way as when I put that post together 5 years ago. If you have any new ideas about mailing blocks to share, please share in a comment and I'll include them in an updated mailing tips post.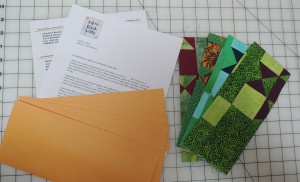 I usually send a block folded inside a letter in a brown paper (AKA kraft) envelope. My envelopes, when filled,  weighed between 1.2 and 1.4 ounces.
I use a #11 size envelope-the largest envelope considered to be a regular envelope by the USPS.
I carefully fold (and press) the block(s) to be as flat as possible and fill the envelope. For the March block, I made a point of folding it so none of the folds were along seams to keep it very slim.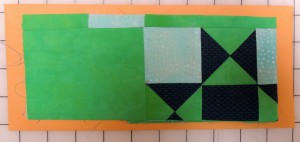 Those are the things I can control.  Unfortunately, none of us in the US can control the arbitrary interpretation of the rules by individual postal clerks … though I will ask questions and push back when something feels wrong.
Today the postal clerk accepted my four envelopes (going to Mariella in Mexico, Dagmar in Germany, Charlene in Canada and Dena in Virginia) as "envelopes" and not "parcels" which meant that they travelled at the lower rate and didn't require customs paperwork, but insisted they were thicker than 1/4 inch and therefore were "large envelopes."  Since I didn't notice until after the postage was paid, I knew he wasn't going to back down and admit he was wrong–there was only one clerk working at the counter and he's the ornery one 🙂
Even as large envelopes, my total was less than $10 for 4 blocks.  I do believe it should/could have been less. Curiously, the ornery postal clerk told me that the one to Canada would likely take the longest (because of Canadian customs).
Note to self: Next time, pay attention that regular envelopes aren't being billed as large BEFORE you pay.
… While we're talking about mailing, I want to remind those that use Press-n-Seal plastic to wrap up their blocks to be sure to fold any raw edges inside.  If the plastic adheres to the raw edges of your block, it sometimes takes a piece of that seam allowance with it when it's removed and make your blocks unusable by the winner who receives them.