9 Easy X Blocks
I finally have had some sunlight and some time to get a photo of my 9 Easy X blocks for this month!  I've had them done for days, but it has been so dark and gloomy here that I just couldn't get a decent photo.
I got nine of these blocks done this month.  These are fun and easy blocks to do!  And I love the color scheme this month too.  Thanks for a fun block, Sophie.  Based on the number of blocks entered in the drawing, this seems to be a popular block.  Good luck to everyone!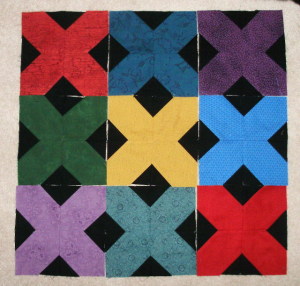 I have a long-term project using this same block that is still in progess.  My X blocks are all in flannel, and they're a little bigger.  This block is so easy that the flannel doesn't cause me any problems.    You can see a photo of my blocks on my blog here.
Sharon K.