Pantone's Color of 2015 and Remembering our Bead Blocks
Remember the great color palette, suggested by Debbie, that we used for our Bead-on-a-String blocks in February and just how hard it was to find fabrics in that brownish-red color?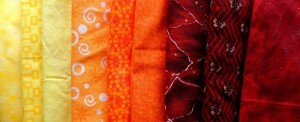 (If you weren't around then, you can see photos of the blocks made by sneak seekers in my Flickr album: Bead-on-a-String Virtual Blocks
I think it's going to become easier to find those earthy reds soon … I just saw Pantone's Color of the Year for 2015.  They call it Marsala.
What do you think? It's not a color I can wear easily, I don't see it fitting into the decor of my house, but I loved it in combination with the yellows, golds and oranges in our bead blocks at the beginning of the year.
And I think, thanks to Debbie, the Block Lotto was ahead of this color trend 🙂
Should we try this again, perhaps in one of the other combinations suggested on the Pantone site? You can see the complete Pantone Fashion Color Report for Spring 2015 here.
I always find it interesting to see how these chosen colors start turning up, not only in Fashion, but in places like advertising and website design.